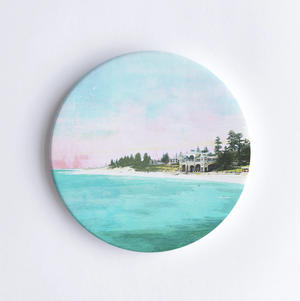 Braw Paper Co
Braw Paper Co Cottesloe Beach Ceramic Coaster
Sale price Price $11.00 Regular price
Tax included.
Braw Paper co hand printed ceramic coasters celebrate some of Australia's most loved and iconic landscapes, native fauna and flora. Whether it is memories of an amazing holiday down under, or a collection of the special places you visited on childhood holidays, you can mix and match from our range to create the perfect set.
Hand painted layers & mark making, along with additional photographs of textures and surfaces we find within our environment, such as rusted metals, stone walls, paper, sand and fabric, are layered to create our colourful and unique mixed media, digital collages.
Coasters are sold individually and are finished with a cork backing and measure 90mm in diameter. The coasters have a glossy finish which really helps the bright colour palettes to pop!