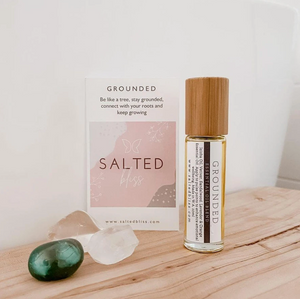 Salted Bliss
Grounded Essential Oil Perfume
Sale price Price $29.95 Regular price
Tax included.
Grounded Essential Oil Blend + a Smokey Quartz Crystal, Clear Quartz Crystal and a Green Jade Crystal with a Grounded Card, this comes in a white organza bag.
Grounded Essential Oil Blend contains carefully selected essential oils to help keep you grounded and calm.
Ingredients:
Jojoba Oil
Vetiver Essential Oil
Sandalwood Essential Oil
Lavender Essential Oil
Orange Essential Oil
Directions: Apply to wrists and neck. It can also be applied to soles of feet but make sure to wear socks to avoid slipping.
10ml