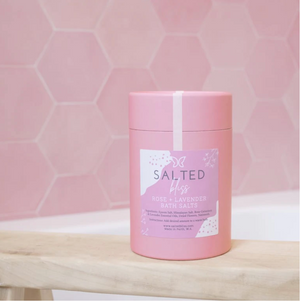 Salted Bliss
Rose + Lavender Bath Salts
Sale price Price $20.00 Regular price
Tax included.
Rose & Lavender Bath Salts are designed to relax your body and soothe the soul. This beautiful blend is perfect for when you are in need of some serious relaxation! Made with premium ingredients and essential oils.
Ingredients:
Epsom Salt
Himalayan Salt
Rose Essential Oil
Lavender Essential Oil
Rose Petal Powder
Rose Buds and Petals
Natrasorb
Directions: Add approximately half a cup to a warm bath and soak for 20 minutes or as long as desired.