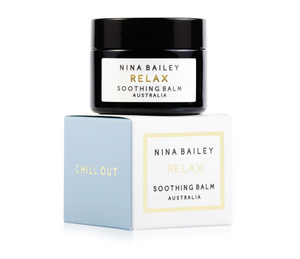 Nina Bailey
Relax Balm
Sale price Price $34.00 Regular price
Tax included.
All purpose nourishing balm made with our Relax blend of pure essential oils. Perfect for relaxation, calming the nervous system and promoting a peaceful night's sleep. Soothe your senses, mind body and soul with Nina Bailey's Relax Balm.
Ingredients: Organic Beeswax, Organic Jojoba, Organic Coconut Oil, Natural Vitamin E, Pure essential oils Rose Geranium, French Lavender, Sandalwood & Chamomile
Stored in Black Violet glass
Pure & Natural. No harmful chemicals. 
50g