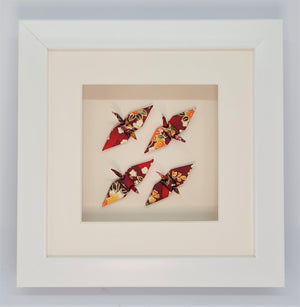 22 Folds
Four Crane Frame
Sale price Price $59.00 Regular price
Tax included.
Similar to the sentiment of a bunch of flowers, these pieces are the perfect gift for loved ones one  special occasion – whether it is for a Birthday, Wedding, Anniversary or House warming gift, it's a lovely keep sake for them to always remind them of that special time in their lives.

The dimensions of the frame (outside measurement) is 18cm x 18cm. The cranes have a 5cm wingspan.
All pieces come presented in a box and come with traditional symbolism of the origami crane as written on the homepage of our website.