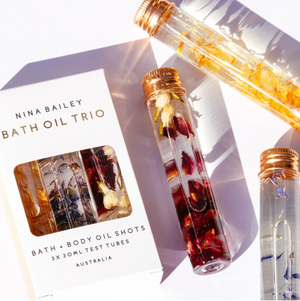 Nina Bailey
Bath Oil Trio
Sale price Price $36.00 Regular price
Tax included.
Bath & Body Oil Shots 
3 x 30ml test tubes of luxurious bath oil. 
Bath time = Me time! The ultimate in bath time luxury. A trio of three amazing essential oil blends with hydrating oils. Your skin will feel so silky smooth after a warm bath. For extra hydration use as a body oil after your bath. 
Bath of Roses - Fractionated Coconut Oil, Organic Camelia Oil, Olive Squalene, Organic Rosebuds & Jasmine, Pure Essential Oils Rose Geranium & Lavender 
Citrus & Magnolia - Fractionated Coconut Oil, Organic Camelia Oil, Olive Squalene, Pure Essential Oils Cedarwood, Bergamot BF, French Lavender, Lemon Oil (steam distilled) Orange, Pink Grapefruit, Mandarin, Magnolia, Lime (steam distilled) Oil
Relax - Fractionated Coconut Oil, Organic Camelia Oil, Olive Squalene, Pure Essential Oils Rose Geranium, Lavender, Cold Pressed Orange , Chamomile, Sandalwood 
VEGAN | NATURAL | NO NASTIES